I just wanted to share my excitement with you guys. My Thursday night softball team (Hazard Squad) won the Sorrento Mesa, Division "D" Softball League Championship last night. The Championship game was a Best 2 of 3 series, and it was held on Monday and Tuesday night of this week. (We played two games on Monday, and then the final game on Tuesday).
We lost the first game 18-14 (which we should have won but we gave up 5 runs on errors through out the game), we won the 2nd game with a walk-off home run 16-15 (I hit the game winning homerun BTW, it was great! ), and then last night we won the 3rd game 16-1. Our team played very well last night, the other team had runners in scoring position almost every inning but we help them to (1) run in 7 innings. Overall I batted 11 for 12 (.917), with (5) singles, (4) doubles, (1) triple, and (1) home run in 3 games. I was the series MVP, pretty cool eh?
On a side note, our team was the first place team for the Thursday night league, with a season record of 9-2-1, and the team we played was from the Monday night league and their season record was 11-0-1.
Check out the trophy we got, it's huge!!
Dale and Debi holding the trophy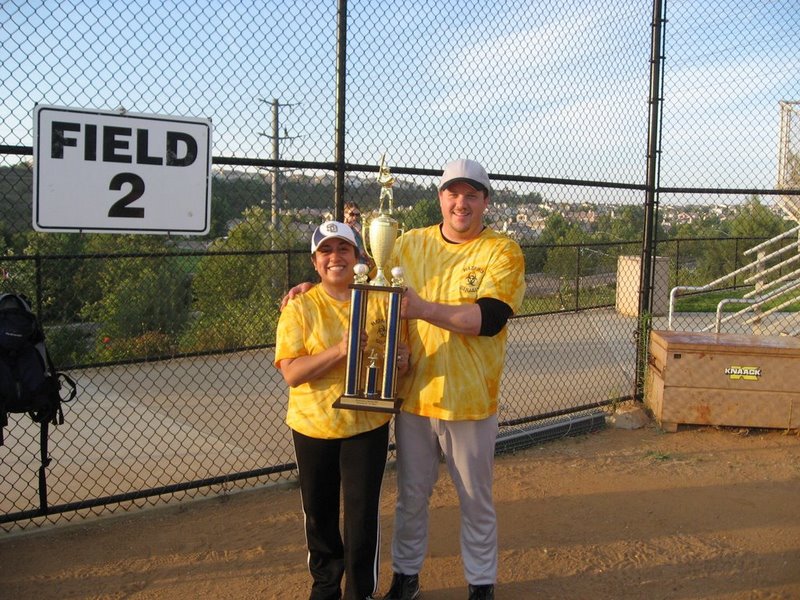 Hazard Squad, Spring 2008 Division "D" Champions