So today I prep'd 6 racks of baby backs for a Sunday Smoke for some friends. Stepping away from my usual dry rub, I have taken a different path...
Chocolate Chipolte Baby Backs.......
I have been experimenting with different flavors, apple/bourbon marinade, with a Thai cinnamon/chunky apple sauce basting sauce... Trying to do something different.
So. here is my Chocolate Chipolte Rib "paste"
3-6 (depending on can size) Canned chipolte peppers and 1 TBS of the liquid/sauce from the can (the chilies will be coated with it so you may or may not need to add more)
1/2 medium size onion, coarse chopped (approx. 1/2 cup)
2 cloves of garlic coarsely chopped or mashed as I perfer
1/4 cup of chopped fresh cilantro
1/2 oz. of semisweet chocolate grated or in small pieces
2 strips (1/2" x 1 1/2") lemon zest, you know the skins and some pulp. Use the slicer doodad on the side of that grater with a handle thingy, coarse chopped.
2 TBS of brown sugar (I prefer dark)
1 TBS of pure chili powder, I use ancho chili power
2 tsp of coarse salt (kosher or sea)
1 tsp lemon pepper
1 to 3 TBS of vegetable oil
Place all of the above in a food processor and pulse until all that stuff is puree'd add the oil to make the puree into a paste like consistency.
Makes enough for 2 racks of baby backs or 3 if you stretch it.
Prep the Ribs by removing the membrane from the bone side of the ribs.
then using a spoon or spatula spread the paste over the bone side and meat side of the ribs and cover (I used foil) and let sit in the refridge at least 4 hours or over night, the longer the better.
Here is how it comes together...........
all the stuff for the paste ready to go into the food processor....
As you can see I might need a bigger food processor.......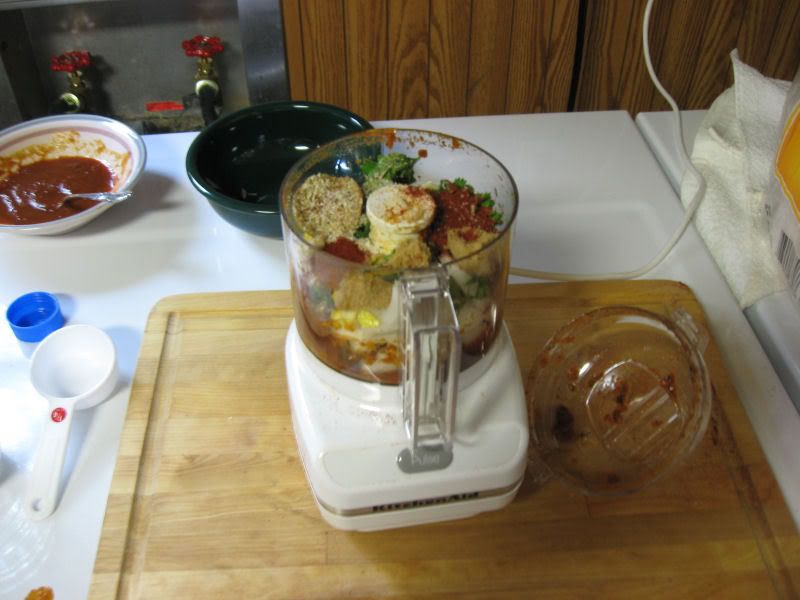 And this is how it ends up......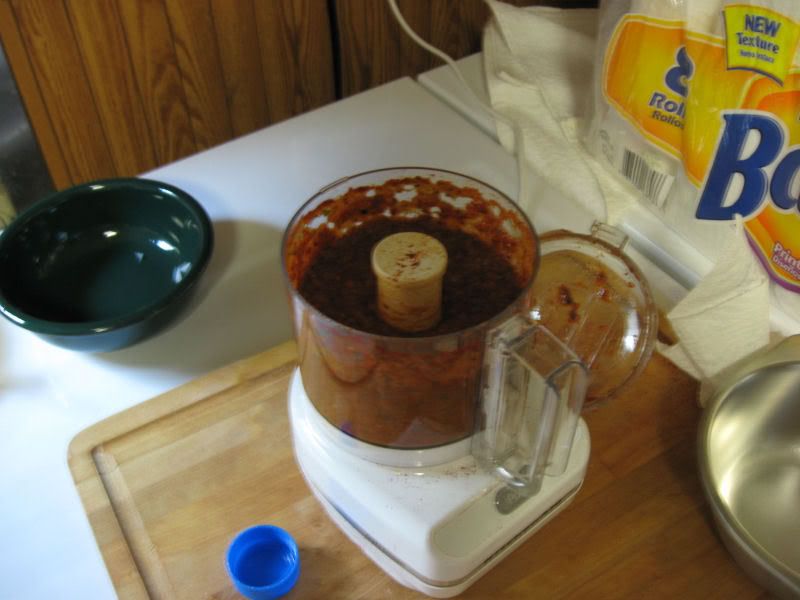 And after its spread around on the ribs.....god it smells wonderful, and even at this state its got some kick..........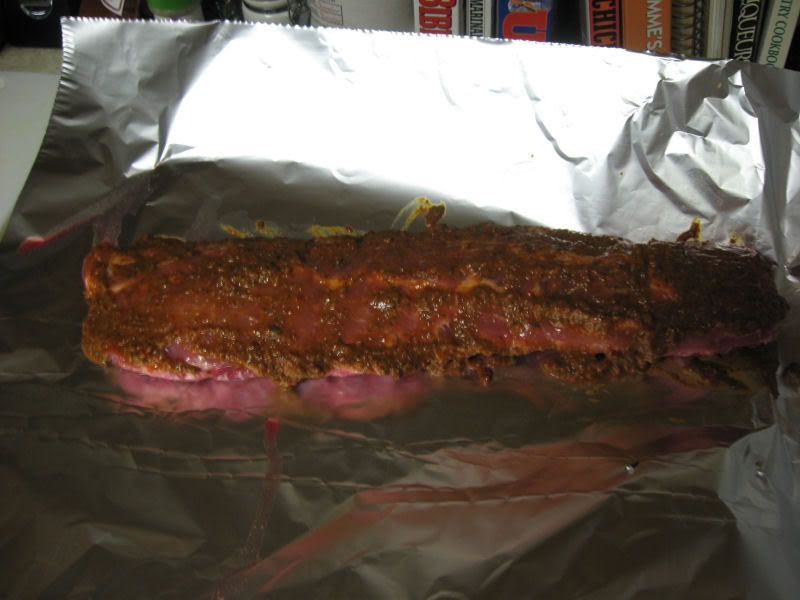 I will post more pics and taste impressions after the Sunday Smoke.....I'm drooling right now...lol